Submitted by Bob Bhatnagar on
The clever people at onOne Software have brought the cable release into the 21st century. For users of Canon EOS digital SLR (single-lens reflex) cameras, there are already a few options for remote control.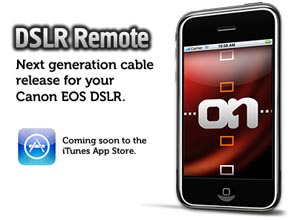 Using DSLR Remote on the iPhone or iPod Touch may require more hardware, but the feature set is impressive for the price. Settings such as shutter speed, white balance and aperture can be controlled, along with the camera shutter.
DSLR Remote also has an intervalometer for time lapse photography, and in bulb mode the iPhone can be used to hold the shutter open. What's really cool is if your Canon supports Live View, the live stream from the camera can be piped directly to your iPhone!
Here's the sticking point. In order for all of this to work, you'll need a laptop or computer running the free DSLR Remote Server software. Communication between the devices requires Wi-Fi, either your own network or an ad hoc (peer mode) connection.
The company has already submitted DSLR Remote to Apple for approval. The professional version will retail for $19.99 with an introductory price of $9.99. There will be a lite version for $1.99 that only releases the shutter.
DSLR Remote is compatible with the following Canon cameras: Digital Rebel XT, Rebel XTi, Rebel XS, Rebel XSi, 20D, 30D, 40D, 50D, 5D, 5D Mark II, 1D Mark II, Mark IIn, Mark III, 1Ds Mark II, and Mark III.
If the application is successful, onOne plans to work on a Nikon version of the product. With any luck, DSLR Remote will soon be cleared for distribution in the AppStore.