Submitted by Marshall Walker on
Armor Games has brought its popular zombie RPG, Sonny to the Apple App Store. The classic Flash title has been "reimagined" for iOS with a new storyline and expanded gameplay, making it worth a look for both long-time fans and newcomers to the series. The game follows Sonny, who is killed on a boat during a zombie outbreak. He is saved after a scientist named Louis uses a special serum to help him retain his humanity. Sonny wakes up as a zombie with his mind intact but without his memories. His only connection to the world, Louis, is eventually killed by Zombie Pest Control Incorporated, and Sonny is left alone in a hostile world. Sonny must battle his way through paramilitary troops and other undead monstrosities to figure out the mystery behind his resurrection and to help save the world.
Sonny is a casual turn-based RPG with no main world to explore. There is a World Map where you can access the 8 chapters that make up the game, but everything else is done from a menu screen. Instead of exploring an overworld, players can select one of the 7 available options from the main menu. The Fight screen is where the bulk of the game is played. From here you can watch all the cut scenes that tell the main story, and battle opponents to gain experience. The menu screen is also where you can upgrade your skills, buy and equip items, view the other members of your party and train for more money and experience.
Battles are fought using different abilities selected from your skill tree. There are a variety of offensive and defensive abilities for you to learn and train, and each ability comes with different effects and recharge times. Along the way Sonny will meet friendly NPCs who will battle alongside him. NPCs attack on their own, but you can control their healing capabilities. If you do not enjoy turn-based battles then Sonny is not the game for you. The game pauses when it is your turn to attack and there is no escape option. Sonny is basically all about the story and battling. There is no open world to explore, or random characters to chat with. This doesn't mean that Sonny is totally mindless. Upgrading and using your different abilities in battle does require strategy. You can also modify your party's weapons, and Armor Games has added a new feature where you can evolve your hero mid-battle.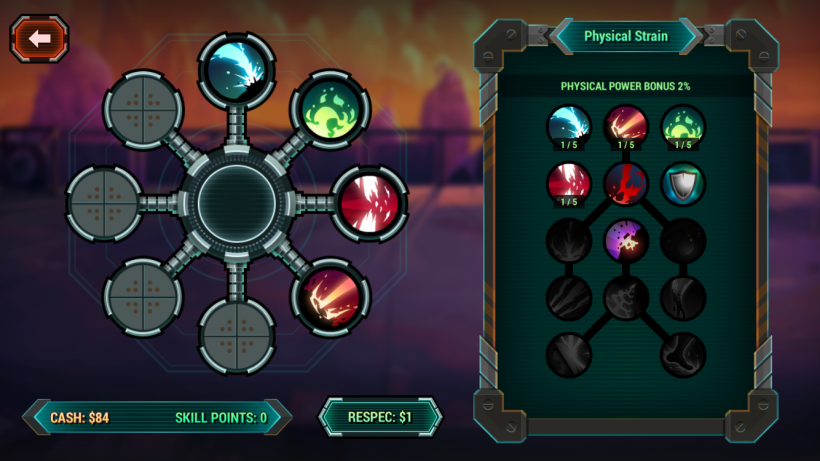 The main story is told through quick text based cut scenes that do not interrupt the flow of the game. There is an option to skip these segments if you are not interested, but the main storyline is kind of the whole point. The cut scenes feature good art, some voice work and are engaging enough to keep you quickly scrolling through without getting bored. Adventure RPGs are always better when you pick up new characters with different personalities along the way, and that's exactly what Sonny delivers. The characters are nothing groundbreaking, but they're fun enough to keep the game interesting.
Armor Games has done a good job of reimagining
Sonny
for iOS, even if it still feels a little like a free title. It is a decent casual RPG for mobile devices without any IAPs, timers or ads.
Sonny
works as both a quick mobile game you can play on the go, or as an engaging RPG you can play at home to escape the real world.
Sonny is available on the App Store for $2.99. It supports all devices running iOS 8.0 or later.