Submitted by Frank Macey on
Nintendo has another mobile hit on its hands with the release of Fire Emblem Heroes for iOS. According to data released by SensorTower, Nintendo's second mobile title garnered almost $3 million in revenues on its first day in the wild. When compared to the top grossing games of 2016, Fire Emblem Heroes takes third place after Super Mario Run, edging out Clash Royale. The top game by far remains Pokémon GO.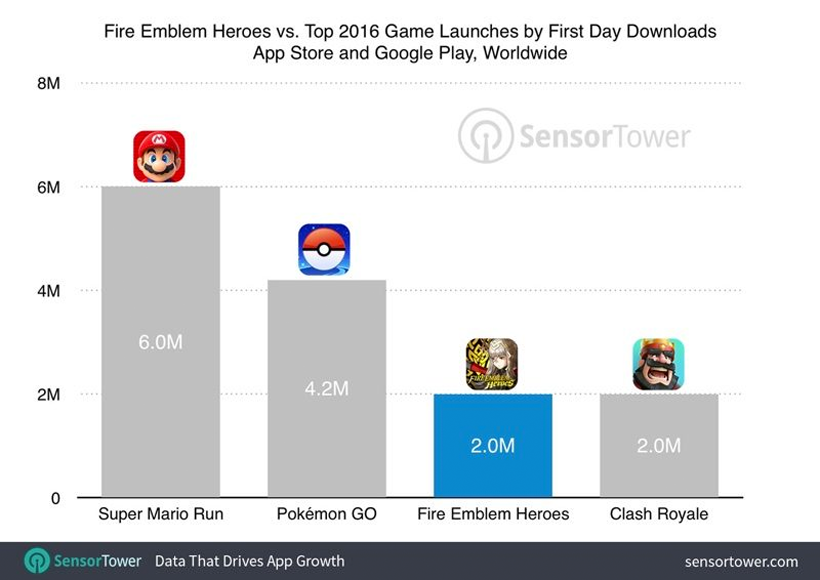 When it comes to downloads, 2 million installations were clocked on the first day of release, matching that of Clash Royale. Nintendo took the top slot in this category with Super Mario Run, while Pokémon GO stood in second place. When analyzed by country, Fire Emblem Heroes enjoys most of its popularity in Japan, with the US not far behind.
Unlike Super Mario Run, which costs $9.99 to unlock all levels, Fire Emblem Heroes uses in-app purchases. Nintendo recently announced its plans for future iPhone games, intending to launch 2-3 mobile titles per year. The launch of Super Mario Run has been successful, with over 78 million downloads. Nintendo's first mobile title has already netted the company over $53 million in earnings.
Next on the list is Animal Crossing, which is expected to launch over the coming months. Variations of the game have been popular on several platforms, including the Nintendo 3DS, Wii U, Nintendo 64 and GameCube among others.
Fire Emblem Heroes is free on the App Store and requires iOS 8.0 or later to install.