Submitted by Sammy Snyder on
The collectible card game Hearthstone is still going strong on the App Store, and this October it is bringing the extra spooky with its Hallow's End event. The Headless Horseman is back with Halloween treats for players who simply log in between October 17 and 10 p.m. PDT on October 31. Players will receive a free golden Witch's Cauldron card and an Arena ticket as a Halloween treat.
Hallow's End will also include a dual class Arena where players can participate as each of the nine classes in costume. During the event you will choose a Hero and a Hero Power. You will then receive cards from both classes to use with with your free arena ticket.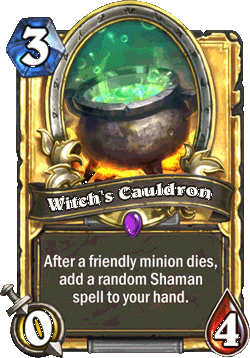 Even the brawls are taking a spooky turn this October. Monster Smash will run from October 17 to October 22, and The Headless Horseman Rides Again will run from Oct. 24 to 29.
Monster Smash
"Wise monster hunters avoid the haunted wood during Hallow's End, so the creepy creatures of the Witchwood are taking the opportunity to find out which among them is the strongest! Take control of a monster from The Witchwood's Monster Hunt single-player mission and SMASH the competition!"
The Headless Horseman Rides Again
"The Headless Horseman has been marauding through the countryside, and it's up to you to stop him! You'll go in disguise to catch the fiend by surprise—after the Brawl begins, you'll get to Discover which costume you'll wear. Each costume has its own deck featuring cards from several classes and a passive Hero Power that you'll need to make the most of if you want to succeed at sinking the sinister specter!"
But wait, there's more... Get 20 The Witchwood card packs when you purchase the Hallow! Hallow! Bundle this October, and don't forget to check for a Fireside Gathering near you.