Submitted by Sammy Snyder on
Yo-kai Watch Wibble Wobble has been updated with a new level called Mystery Way. The new event wasn't delivered through the typical update method through the Apple App Store. To gain access to Mystery Way you will need to open the app to download the new information, then navigate to Menu > Map Warp > Event and tap the Mystery Way panel. If you have not unlocked the Map Warp option you will need to befriend Mirapo on stage 19 on the Mt. Wildwood map.
The new level features 9 new battles, 1 boss battle and 1 hidden stage. The level of difficulty is pretty low, but the new event gives you the chance to collect new stars, earn coins for the Crank-a-Kai machine and unlock new Yo-kai. Veteran trainers will want to take in their lower level Yo-kai through this level.
Update: There is actually multiple boss battles and hidden stages as Mystery Way extends past the first boss Goldy Bones. We're not sure how many levels Mystery Way actually has since we haven't completed it yet, but we will update this page when we do. We will also publish how to unlock the hidden stages as soon as we figure them out.
Update 2: There are three levels in Mystery Way: Mystery Way, Super Mystery Way and Ultra Mystery Way. Goldy Bones is the only boss (you fight him 3x) and there are three hidden levels, which you can learn more about at the bottom of this post. The levels also get increasingly harder, so you will need to eventually break out your higher level Yo-kai to complete all three levels.
Mystery Way will be available from May 11th to 11:59 PM, May 31st.
Yo-kai Watch Wibble Wobble is a free battling game based on the Nintendo 3DS title and hit animated series. The game is a Pokémon-like adventure where players collect and train Yo--kai characters with different powers and abilities to fight in battles. The game features a fast paced matching battling system where players must connect as many like Wib Wobs as possible and "pop" them to attack. You can read our review here and check out our Strategy Guide here.
Yo-Kai Watch Wibble Wobble is available for free on the App Store. It supports all devices running iOS 7.0 or later, and it is highly recommended.
Mystery Way Hidden Stages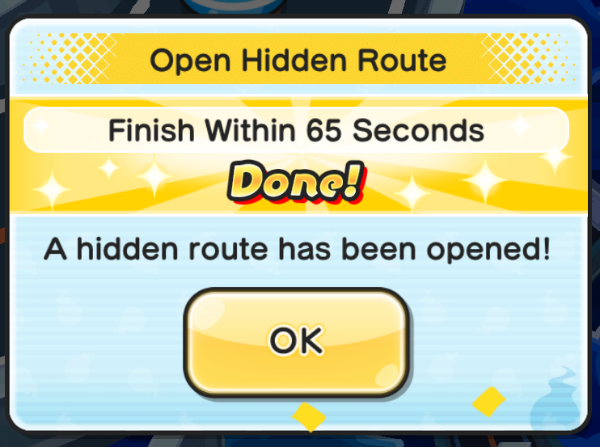 Hidden Stage 1: Finish level 7 within 65 seconds (Payn)
Hidden Stage 2: Score 150,000 points or more on level 19 (Master Oden)
Hidden Stage 3: Complete level 31 with Zerberker (Zerberker)