The first augmented reality (AR) app that most of us heard of (whether we realized it was AR or not) was likely Pokèmon Go. The game was a worldwide sensation turned spectacle as news channels shared stories of people walking into walls or worse, and getting into car accidents while chasing and collecting the Pokèmon creatures in the real-world environment.
Augmented reality works by adding a computer generated layer of information on top of the user's real-world surroundings, thus "augmenting" the visual environment. It can be used for games like the aforementioned, or it can be used in a wide variety of real-world applications - visualizing furniture in your house, learning skills, accessing information in real time and more. Apple's Measure app, for instance, lets the user take measurements of real world objects using AR.
AR is only in its infancy and, with continued development, will eventually become a ubiquitous technology that we use every day. Here are a few apps to introduce you to AR and give you an idea of what it is capable of:
Chalk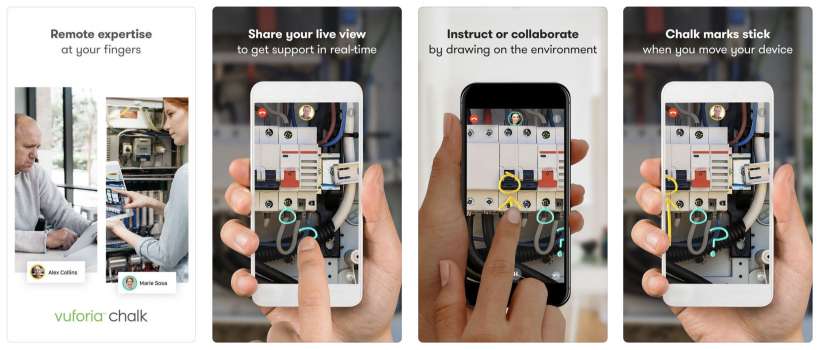 If you've ever had the pleasure of trying to guide a tech-unsavvy person over the phone (e.g. helping your parents play a DVD, etc.) then you will immediately see the use of Vuforia Chalk. The app lets users provide technical assistance from afar in real-time. One end points their camera at the problem, the other end can annotate - circle things, draw arrows etc., while maintaining both a video and audio connection.
Houzz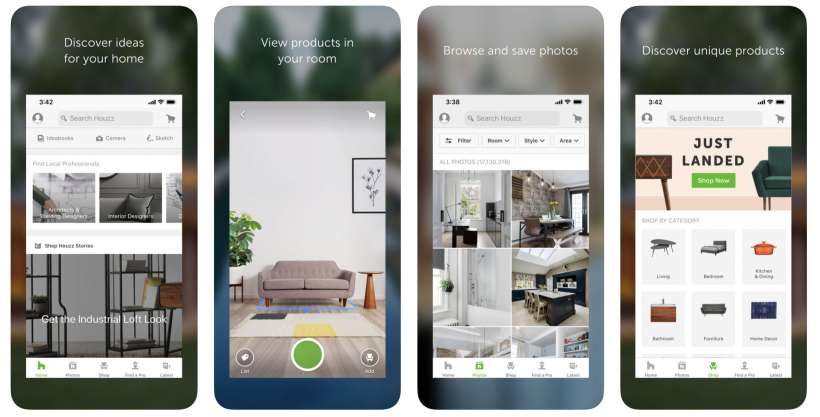 Houzz ranks as one of the top home improvement apps available. Users can browse millions of high resolution interior and exterior photos, purchase products, connect with professionals and more. Its new "My Room 3D" feature uses AR to let users preview how products would look in their homes. So if you come across a couch that you like, you can use your iPhone's camera to view your living room, then place the virtual couch where you want it, giving you an idea of how it would look. There are currently over 1 million products in the My Room 3D catalogue.
Thyng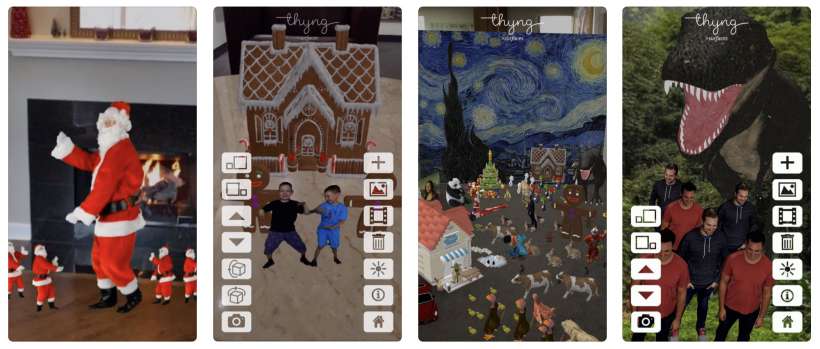 Thyng is for people interested in creating AR, not on a developer level, but a more 'messing around' type experience. Experiment with creating virtual objects and placing them in your real-world environment, then share photos and videos of your augmented world.
Dance Reality
If you have ever wanted to learn how to dance but have been too shy or didn't want to spend the money on lessons, you should check out Dance Reality. Whether you want to learn the samba or waltz, this app will provide virtual footprints for you, music, a counting voice to help you stay with the beat, choice of Follow or Lead steps and lessons for solo and couple dances. It won't replace a human instructor, but will certainly get you started on the right path.
The Machines

The Machines is so visually stunning that it was featured in an Apple Keynote address about ARKit. It is a one-on-one or multi-player 3D-immersive tactical battle game. As Macworld put it, "The Machines is a perfect example of the future of AR."