Submitted by Bob Bhatnagar on
Confirmed: the iPhone 4 will not be available in white on launch day. In fact, customers who had pre-ordered the white version of Apple's latest creation were notified by Best Buy that the device will not ship due to manufacturing delays. Other customers have received notification from Apple or AT&T that their pre-orders have been cancelled due to overwhelming demand and website processing errors.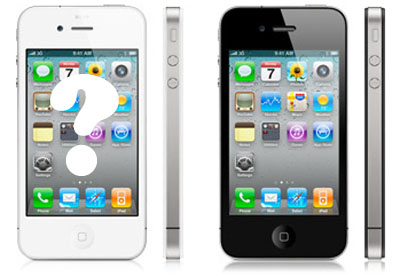 The white iPhone 4 specifically has been a source of rampant speculation ever since the device was demoed at WWDC after Steve Jobs' keynote speech. Apple initially announced that both the white and black models would be available on launch day June 24.
This is clearly not the case, and Apple has been reluctant to show off the white iPhone 4 in its promotional materials. In nearly all of the press and gallery images, advertising and other information, Apple is focusing sharply on the black model, leaving mystery surrounding the white version.
Rumors were even floated that the white iPhone 4 was actually delayed because it was going to be a Verizon Wireless CDMA model. Interesting concept, but when was the last time a smartphone manufacturer separated its products by color for different carriers? Can we expect a purple iPhone 4 for T-Mobile and a green model on Sprint? Incredibly unlikely.
As Apple processes the 600k+ orders it has already received, the iPhone 4 becomes something of a rarity until demand can be met. This becomes even more true for the white iPhone 4, since no amount of time waiting in line next week will yield a white phone. Those who like the white model or believe it sets them apart from the crowd will have to postpone their upgrade plans.
Both the iPhone 3G and 3GS models were available in white, although the front bezel was still black. The iPhone 4 features glass on the front and back, and the white model has a white bezel surrounding the screen for the first time. Both the white and black models feature a stainless steel edge around the sides.