Submitted by Frank Macey on
There's a new Bluetooth keyboard in town, billed as the first Multi-touch keyboard ever. The TextBlade weighs only 1.5 ounces (42.5 g) and uses magnets to fold up for easy carrying. According to the manufacturer WayTools, eight physical keys use Multi-touch and MagLever technology to provide a precision touch-typing experience.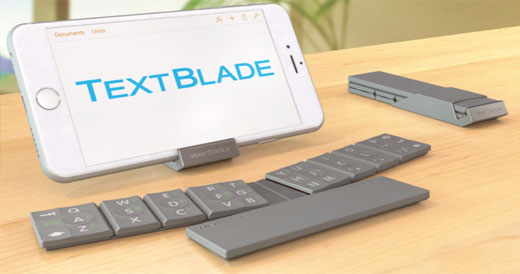 Full-size 19mm key spacing and 2mm of travel make TextBlade keys the same as a standard keyboard. In addition to characters, the keys are MultiLayer, which provides access to symbols, editing shortcuts, and iOS-specific controls. The space bar contains a lithium polymer battery that charges in less than an hour and lasts up to a month.