Submitted by Frank Macey on
Push notifications are great, except when they constantly interrupt what you're doing on the iPhone. Luckily for iPhone owners with iOS 4.0 or later developer Peter Hajas has released a tweak that greatly improves iPhone notifications. In fact, Apple has even hired Peter to implement his MobileNotifier software in iOS 5.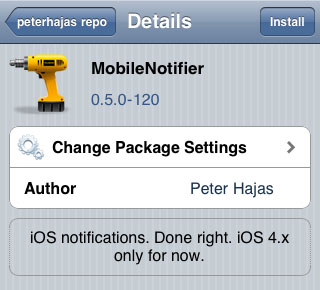 If your iPhone is jailbroken you can install this tweak and start enjoying the benefits of MobileNotifier immediately. To get started, open Cydia and follow these instructions to add a repository.