Submitted by Marshall Walker on
T-Mobile doesn't offer the iPhone, but that hasn't stopped iPhone users from using T-Mobile. It's estimated that around one million T-Mobile customers use unlocked iPhones to access the carrier's slower EDGE network. The iPhone is incompatible with the 1700/2100 MHz bands used by T-Mobile for its faster data speeds, but a recent refarming of its spectrum capacity has caused some pockets of the country to be iPhone-accessible.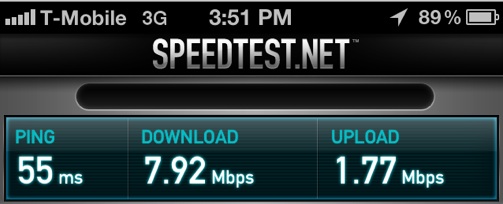 According to TMONews, a very few unlocked iPhone users are picking up 3G signals in parts of Northern California and the Pacific Northwest:
"Nevada, parts of Northern California and the Pacific Northwest are also seeing some pockets of 1900MHz spectrum refarming for HSPA+. There are other parts of the country T-Mobile can refarm the 1900MHz spectrum but, the focus is on the Pacific Northwest, Nevada, Utah and California for right now from what we're told. We should emphasize and emphasize greatly that this post does not mean that all of the aforementioned areas are seeing this refarmed spectrum, just pockets inside those areas."