Submitted by Thomas Estilow on
The iPhone is about to get a new web browser. That is, if Apple approves Opera Mini for distribution in the App Store. Opera Software ASA has announced that an iPhone version of its efficient web browser will be submitted for approval very soon.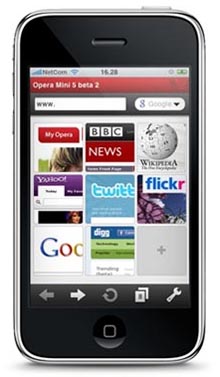 The project is said to be only weeks away from completion, and would bring Opera Mini to yet another mobile platform. The company has already released its software for Android, BlackBerry and Windows Mobile devices. In January, Opera Mini surpassed 50 million unique monthly users.