Submitted by Bob Bhatnagar on
Postponing a notification for later in iOS is not possible with a stock system. Repeat Alerts can be set for Messages under Settings -> Notification Center -> Messages, however these only happen at pre-set 2 minute intervals. What about delaying a notification from another app?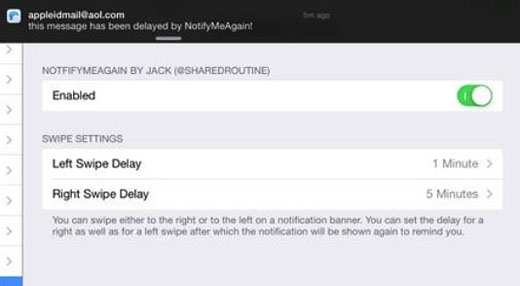 This is where the free tweak NotifyMeAgain can help those with jailbroken iOS 7 devices. In place of repeated alerts, NotifyMeAgain uses two simple gestures to delay re-notification alerts from any app. A swipe left on the notification banner will delay an alert by one interval of time, while swiping right can be set to another delay. This can help to remind the user of notifications that can't be dealt with immediately.