Submitted by Bob Bhatnagar on
If you've waited this long to buy an iPhone 4 or iPhone 3GS, it looks like patience will pay off at the end of this month. The leaked screenshot below shows internal documents indicating that third-party iPhone retailer Radio Shack is getting ready to slash prices on the iPhone starting today (July 31, 2011). To qualify for the new subsidized pricing customers must sign up for a two-year contract.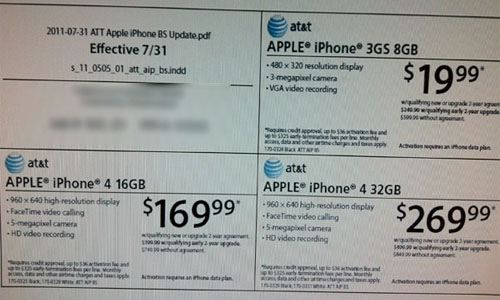 Both iPhone 4 models will drop $30 off the selling price, assuming the document sent to Engadget is authentic. This brings the price of the 16 GB iPhone 4 to $169.99 and the 32 GB model to $269.99. The 8 GB iPhone 3GS will also be reduced and is offered here for $19.99. We have already seen AT&T sell refurbished iPhone 3GS units for as low as one cent with a two-year contract.