While the ability to take quality photos has clearly become one of the most important features to smartphone users, the ease with which those photos are shared with friends, uploaded to the web and distributed across other devices has become a crucial ingredient as well. Apple sought to improve this aspect when it introduced iCloud Photo Library with iOS 8. At the time, rumor had it that Apple would do away with its existing service, My Photo Stream. The fact that this never happened and My Photo Stream is still alive and well has been the source of much confusion ever since. So without further ado, here are the differences: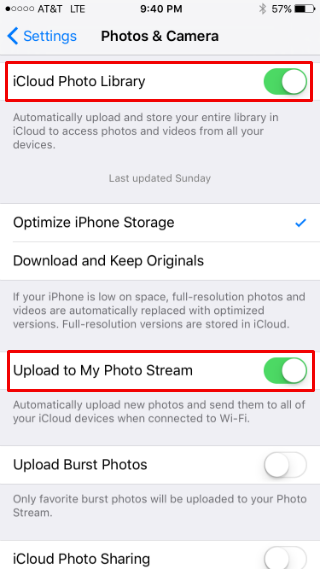 iCloud Photo Library
The iCloud Photo Library is basically an enhanced version of My Photo Stream, but it uses your iCloud storage for your photos. Since you only get 5 GB free storage with your iCloud, and most people's photo libraries are considerably larger than that, chances are you will need to purchase additional storage. The iCloud Photo Library stores all of your photos and videos and will keep them updated (if you edit them, etc.) across all of your devices that have it turned on. Some points to keep in mind:
Stores all of your photos and videos and is only limited by your iCloud storage capacity.
Stores full resolution photos and supports a variety of formats.
Uploads both videos and photos.
Compatible with devices operating on iOS 8.1 or later and OS X Yosemite (version 10.10.3) or later.
My Photo Stream
My Photo Stream was the original iOS tool for uploading and synching photos. Unlike iCloud Photo Library, it does not use your iCloud storage allotment (it uses iCloud, but doesn't count against your storage capacity). It will store and synch your last 1000 photos or 30 days worth only, once you pass the threshold the oldest photos will be removed automatically. Some points to keep in mind about My Photo Stream:
Stores your most recent 1000 photos or the past 30 days worth of photos, whichever is greater. Does not count against your iCloud storage capacity.
Stores web-optimized photos only, which can reduce quality (though you will still have the original on your iPhone). Does not store videos.
Is compatible with anything that is compatible with iCloud, which includes devices operating on iOS 5 or better or OS X 10.7 (Lion) or better.
So... which service to use? If you have enough storage capacity on iCloud and all of your devices can handle it, there is no reason not to use iCloud Photo Library and forget about My Photo Stream. In fact, as soon as you turn on iCloud Photo Library, the My Photo Stream album will disappear (if you had it on). Even though it disappears, My Photo Stream is still on so you can still use it to synch with other devices, it just doesn't show up as its own album anymore since anything that could be in it would also be in your Camera Roll and thus in your iCloud Photo Library. The only reason to have both on would be if you have some older devices that aren't compatible with iCloud Photo Library. If all of your devices are older or you don't keep a large library, you can use My Photo Stream to synch your photos with your other devices.
Both services can be turned on and off in Settings -> Photos & Camera.