Submitted by Fred Straker on
Now that Cydia and MobileSubstrate have been updated for iOS 7, developers are working hard to bring their tweaks up to speed. In the meantime, there's one detail that has been overlooked. The Cydia icon still has an iOS 6 design, which doesn't conform to other icons on the iOS 7 home screen.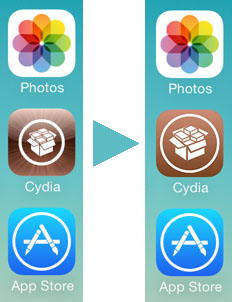 Of course, if your device is jailbroken the Cydia icon (or any icon, for that matter) can be replaced. By following the steps below, you can add this finishing touch to the iOS 7 jailbreak. Installing the new icon requires transferring files to the iPhone via SSH. For instructions on how to transfer files to your iPhone with SSH click here.
First of all, there are several options to choose from. Icon files can be found at reddit and deviantART, for example.
The four options below are optimized for the iPhone Retina display. Follow these steps to install:
1. Save the Cydia iOS 7 icon you wish to install to your computer (right-click in your web browser and select Save Image)
2. Make sure the iPhone is connected to the same Wi-Fi network as the computer
3. Transfer this icon file from your computer to the iPhone directory /Applications/Cydia.app/ using SSH. For instructions on how to transfer files to your iPhone with SSH click here.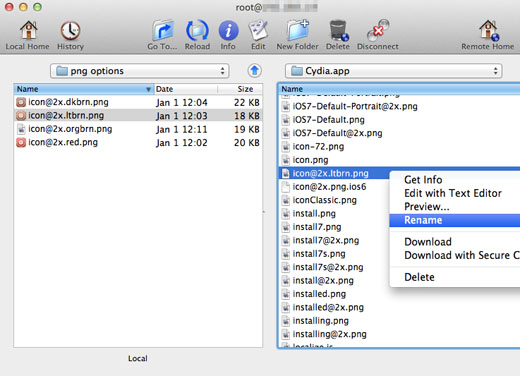 4. Rename the old Cydia icon file /Applications/Cydia.app/icon@2x.png to something different, for example icon@2x.png.ios6
5. Rename the new Cydia icon file you just transferred to icon@2x.png
6. Navigate to the icon cache directory at /var/mobile/Library/Caches/com.apple.IconsCache/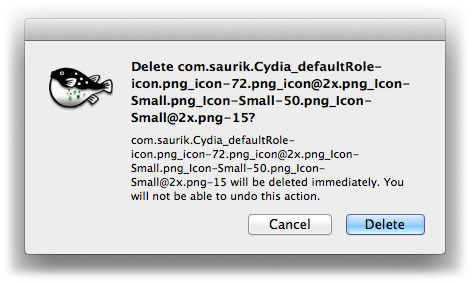 7. Delete the file that begins with com.saurik.Cydia
8. Respring or reboot your iOS device
The redesigned Cydia icon matching the rest of iOS 7 now appears on the home screen. To change to a different version of the Cydia icon repeat the steps above.
As always, when changing files directly on an iOS device exercise caution. If the wrong files are moved or deleted errors can result, and ultimately the device might need to be restored.