Submitted by Bob Bhatnagar on
What if you could just plug your iPhone directly into a router with a USB cable and share the 3G data connection with every Wi-Fi device within 200 feet? Now you can, with Nexaira's Business Class 2 tethering-ready router. The router is compatible with the iPhone 4, iPhone 3GS and iPhone 3G.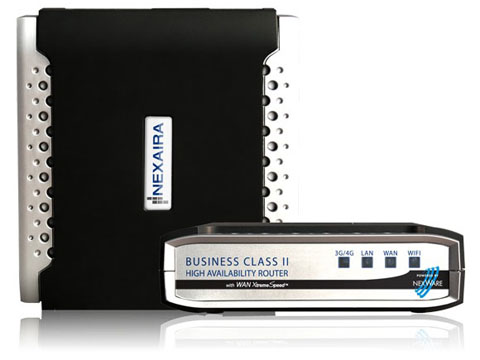 Of course, if your iPhone is not jailbroken, you'll need to enable official tethering with your cellular carrier. AT&T offers iPhone owners tethering for $20 per month. With tethering, simply plug in the Nexaira BC2 router, connect the iPhone via the rear USB port and you're all set. Anywhere with power and a 3G signal becomes a Wi-Fi hotspot.
$20 per month for an iPhone tethering plan is much less than comparable data plans such as Verizon's MiFi or AT&T USBConnect data plans charging $40-60 or more. Nexaira BC2 is the only device to offer direct iPhone tethering compatibility. What else do you get for the purchase price of $190?
The router supports Wi-Fi 802.11 B/G/N and sports 1 WAN input and 1 LAN output. As its name states, the BC2 is a business-class router, with customizable 3G/4G auto-failover with anti-flap. VRRP, GRE, IPSec termination, QoS, WDS, and "Extreme Speed" modem optimization are just some of the acronyms and features included on this router. The device ships to 200 countries worldwide, and an international adapter is available for travelers.
AT&T subscribers with iPhones will need to have the $25 2GB/monthly DataPro plan in order to add the tethering option to their bills. One advantage to using the BC2 as a backup (if your primary ISP goes down) is that tethering can be turned on or off without locking in a long contract. Hopefully we'll see more router manufacturers offer iPhone-compatible devices at even more competitive prices in the future.