Submitted by Bob Bhatnagar on
Running out of space on your iPhone? Now you can store and play music using the mSpot Music app for free. Two GB of space in the cloud stores all of your songs, album art and track titles and streams them to your iPhone over 3G or Wi-Fi. Space can be extended to 40 GB with a $3.99 monthly fee.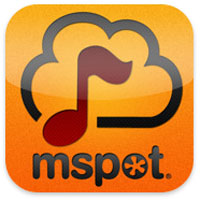 Not only can you stream your music from anywhere with mSpot Music, you can also download specific songs to the iPhone to play when you're not connected to data services (like airplane mode). The mSpot cloud compresses your music, so although quality may be reduced, more songs can be saved on the remote drive.
Using the mSpot service is simple, just grab the mSpot Uploader for your desktop (PC or Mac) and select the songs you want to upload. Syncing works the same way if you alter your library. After your music has been stored on the mSpot server, you can play songs from your iPhone or any web browser.
Caching makes certain that no matter what's the quality of your cellular data connection you can stream without breaks in the music. The mSpot service also features a live lyrics component that will show lyrics to your songs in real time on the iPhone screen.
A similar service known as
Lala
was purchased by Apple and has disappeared. The service closed down in April, with no word on exactly what Apple was planning to do with its technology. Presumably Apple has mSpot Music in its sights, as they are building a new server farm in California. Apple is expected to release their own iTunes cloud service for streaming music and video in the near future.