Submitted by Bob Bhatnagar on
The unprecedented low price of $147 for a new iPhone 4 is coming to a Sam's Club near you. Following the recent expired Radio Shack promotions, Sam's club will undercut record low prices on the iPhone 4 by an additional two bucks. The iPhone 3GS will go on sale for just $47.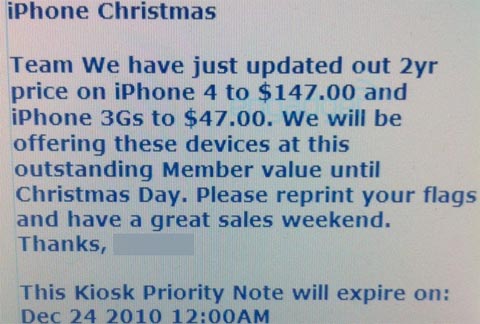 Radio Shack sold out of the iPhone nationwide during its sale, and Best Buy offered the iPhone 3GS for free in a one-day only sale. Here's the catch, to qualify for these low prices at Sam's Club you must be a member and sign up for a two-year service agreement with AT&T Mobility.
The memo pictured above was leaked to Engadget, although it's not clear exactly when the sale starts. According to the report, Sam's Club will discount the iPhone models until Christmas Day. The memo reads:
iPhone Christmas
Team We have just updated out 2yr price on iPhone 4 to $147.00 and iPhone 3Gs to $47.00. We will be offering these devices at this outstanding Member value until Christmas Day. Please reprint your flags and have a great sales weekend.
This Kiosk Priority Note will expire on: Dec 24 2010 12:00 AM
Sam's Club offers an Advantage Membership for $40.00 and an Advantage Plus Membership for $100 annually. In related news, Walmart stores are currently offering a $50 gift card for those purchasing an iPhone 4 or iPhone 3GS with a two-year service contract at its retail locations. If you're not already a member at Sam's Club, Walmart could save you some money with the gift card offer.
Apple still sells the iPhone 4 online starting at $199 with the same AT&T contract. The iPhone 3GS retails for $99 directly from Apple. These holiday discounts can save some cash if you're looking for a new iPhone, and don't forget Radio Shack offers trade-in gift cards of $75 for an iPhone 3G and $125 for a working 3GS.