Submitted by Frank Macey on
China Times reports that the iPhone 5 has entered a trial production phase and will feature a larger screen. Purported iPhone 5 parts have already leaked that seem to match the claim of a four-inch screen. The iPhone 5 itself is expected to have a similar form factor as the current model, with the display reaching all the way to the edge of the device.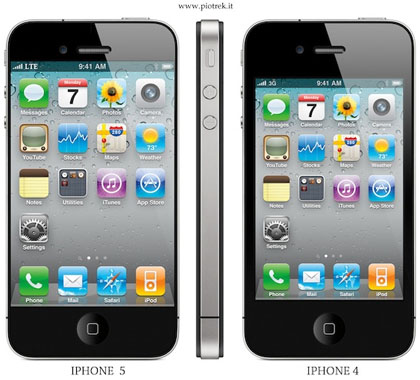 The rendering above by Piotrek Photos shows how a larger iPhone 5 screen might compare to the current iPhone 4 display. This news comes as the New York Times has confirmed Apple is working on near-field communication (NFC) technology so that future iPhones can easily make wireless mobile payments at specially equipped cash registers. The NFC hardware would be integrated with the iPhone processor and linked directly to the owner's iTunes account.
Although Apple is working on NFC technology it's not clear whether or not the feature will make its way onto the iPhone 5. The company could be saving this functionality for a future model iPhone, as there are many different versions of the e-wallet concept currently entering the market. Competing Android phones are already getting into the act, with the Samsung Nexus S already equipped with NFC.
Other highlights of the iPhone 5 design include the switch to a metal back, much like the original iPhone. Apple could completely redesign the iPhone 5 with a curved aluminum back, to bring it more in line with the iPad 2 and recent iPod touch designs. More recent information points to a next generation device much more similar to the iPhone 4, except replacing the back glass panel with metal. A redesigned antenna would be integrated into the smartphone to help prevent the reception issues that were cited by Consumer Reports when they refused to recommend the iPhone 4.
According to China Times, the iPhone 5 is on track for a summer 2011 release. This contradicts some reports that the
iPhone 5 could be delayed until September
. Apple typically updates the iPhone every year in late June to early July. Plenty of time left for more rumors, leaks and speculation before an official Apple announcement.