Submitted by Marshall Walker on
It looks a lot like the iPhone 4, but Tim Cook promised the latest Apple iPhone is "all new inside." The Apple CEO unveiled the iPhone 4S (not the iPhone 5) in Cupertino on Tuesday. The new iPhone features a dual-core A5 processor, 8-megapixel camera, and GSM and CDMA radios.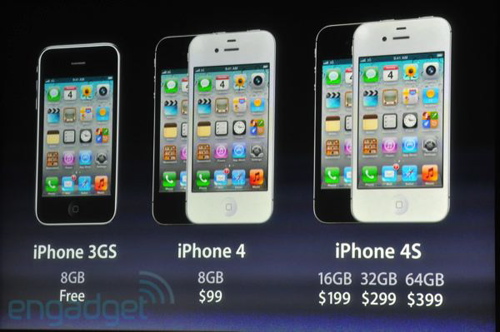 The iPhone 4S offers 8-hours of talk time (3G), and six hours of web browsing time (3G). It also features image stabilization, facial recognition, 1080p video recording capabilities and the new Siri voice control feature.
The iPhone 4S will be available in the US from AT&T, Verizon and Sprint on October 14th. Pre-orders begin this Friday, October 7th. The 16GB model will cost you $199, the 32GB version is $299 and 64GB version will retail for $399.
The iPhone 3GS was not discontinued, and is now free with carrier contract. The 8GB iPhone 4 will retail for $99. While somewhat disappointing, there were a lot of announcements made at the Apple "Let's Talk iPhone" event which we will be getting to in the future. Stay tuned...