Submitted by Marshall Walker on
A leaked internal document obtained by TechnoBuffalo reveals that Best Buy is preparing to roll out another iPhone trade-in program. According to the image posted below, Best Buy will offer a minimum of $100 in credit to customers who trade-in select smartphones. The smartphones have to be in working condition, and the credit must be used to purchase a new iPhone 5s or iPhone 5c. The promotion will run from October 13 to October 19 and will only be available at select participating locations. Previously Best Buy was offering $50 in credit to anyone who purchased an iPhone 5c, without having to trade-in an older device.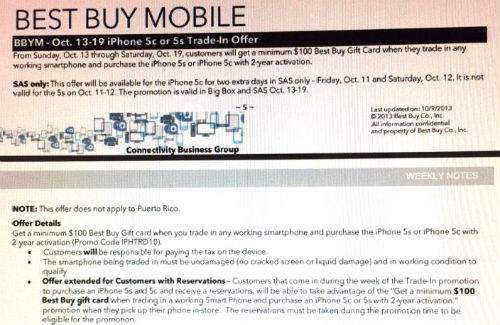 As you may already know, $100 isn't really a great deal for a used iPhone. Electronics resellers such as NextWorth and Gazelle offer much more money for older Apple products. You can compare iPhone trade-in prices using our table here.
Sprint is also offering $100 off the iPhone 5s or iPhone 5c to any new customers who change their carrier, and Walmart is selling the 16GB iPhone 5c for only $45 throughout the holiday season. So make sure you check all your options before trading in your used iPhone and upgrading.