Submitted by Bob Bhatnagar on
Tracking cellular data usage by apps and the iOS system is possible using Settings -> Cellular. In addition to data usage itemized by app, system services and roaming totals are also listed. While this can help keep track of data usage, left to its own devices iOS will never reset the stats. Users must manually tap the Reset Statistics button.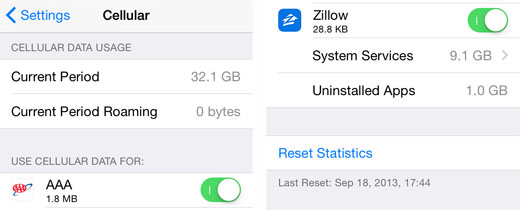 Monitoring cellular data usage can be more useful when the statistics are only recorded for a specific interval, such as your billing cycle. The jailbreak tweak ReStats adds this functionality to iOS 8, automatically resetting the totals based on user preferences. Once installed, configuring the tweak is a two-step process.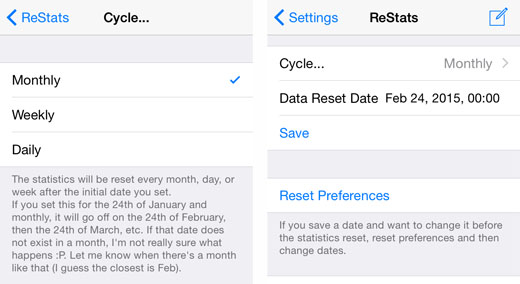 First, the Cycle can be selected under Settings -> ReStats. Options include Monthly, Weekly, and Daily intervals. When the cycle is set up, the Data Reset Date can be selected and saved. This date and time is when the first cycle will begin, and when cellular data usage will be reset to zero.
ReStats remembers to reset the cellular data stats so you don't have to. With any luck, a future version of iOS will include this option under Settings.
ReStats is available free from the BigBoss repo on Cydia. To start customizing iOS, click here for instructions on jailbreaking iOS 8.0-8.1.2. Those with older firmware can jailbreak with Pangu (iOS 7.1) or evasi0n 7 (iOS 7.0). Find out how to purchase and install Cydia tweaks with this guide.
Follow the iPhoneFAQ Twitter feed and stay tuned to Facebook for the latest jailbreak tweaks and news.