Submitted by Bob Bhatnagar on
The jailbreak tweak OneHandWizard replaces default Reachability behavior with a completely new interface. This interface is designed to knock the socks off of Reachability, providing robust features for those with larger devices like the iPhone 6 Plus. Once installed, OneHandWizard will appear using the same home button double tap used by Reachability.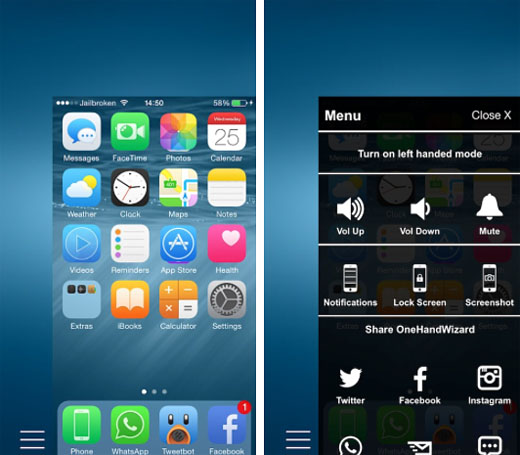 What happens next is completely different. A full-screen interface of the iPhone screen is displayed, reduced in size to accommodate one-handed use. Swiping on the background moves this interface to the left or right side of the display, making it customizable for right or left handed usage. The interface can also be adjusted in size, by simply grabbing the corner of OneHandWizard.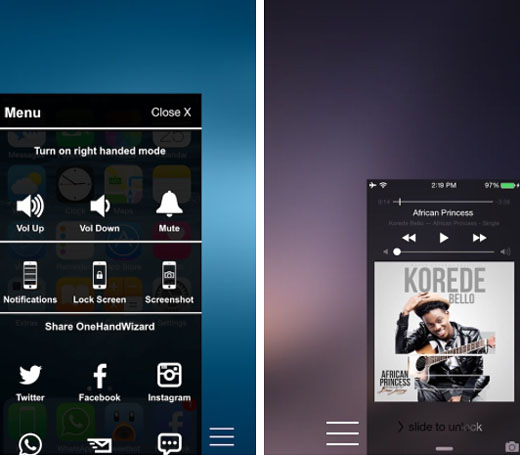 While these features alone make OneHandWizard more robust than Reachability, there's more. A menu button at the bottom of the screen can be opened, revealing a variety of buttons similar to Accessibility's AssistiveTouch feature. Besides volume controls, there are buttons to perform actions such as taking a screenshot and opening Notification Center with a simple tap.
OheHandWizard is available from the BigBoss repo on Cydia for $3.99. To start customizing iOS,
click here for instructions on jailbreaking iOS 8.0-8.1.2
. Those with older firmware can
jailbreak with Pangu (iOS 7.1)
or
evasi0n 7 (iOS 7.0)
. Find out
how to purchase and install Cydia tweaks with this guide
.
Follow the iPhoneFAQ Twitter feed and stay tuned to Facebook for the latest jailbreak tweaks and news.