Submitted by Bob Bhatnagar on
Did you know that when you email a photo from the camera roll on your iPhone, the resolution of the picture is automatically degraded to 800x600? This makes sense if you don't need to send anything at a higher quality resolution.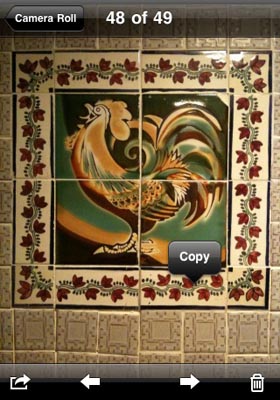 But what if you need to send the full resolution photo? The original iPhone and iPhone 3G both take photos at 1600x1200 resolution. The iPhone 3GS with its auto-focus camera takes photos at 2048x1536 resolution.
The solution to this problem is simple if you're running iPhone OS 3.0 or later. Hold down on either the thumbnail of the image in the camera roll, or directly on the image and "Copy" will appear.
Touch "Copy" and it will turn blue. This copies the full-sized image to the clipboard. Now compose a new email and hold down until "Paste" appears. Touch "Paste" and it will insert the full-sized image into the new email.
Another way to copy and paste one or more photos is to open the camera roll and touch the share button on the lower left corner. Select the thumbnails of the photos you'd like to send, then select the "Copy" button in the middle of the bottom menu to copy full resolution versions to the clipboard. Now you can paste them all into the same (large) email.
Remember, the default 600x800 images are only around 140 kilobytes. If you're sending an iPhone 3GS photo at full resolution the file will be around 1.3 megabytes. This is a significantly larger file, so only do this if you need the extra detail.