Submitted by Sammy Snyder on
South Park: Phone Destroyer has landed on the App Store. The Ubisoft title is a real-time strategy, card collecting game. In the game you take on the role of the new kid who is famous for the amount of hours he spends on his phone. Cartman enlists you in a battle of Cowboys and Indians where you must lead different characters into combat against other characters from the fictional Colorado town.
First I must note that the game forces you to log in to Game Center which is a major strike against it. There's a reason Apple added the ability to disable Game Center and that reason is everyone hates it. Besides being forced into dealing with the Game Center banner, Phone Destroyer is a fun freemium title with a lot of South Park references. It includes a single player story written in collaboration with South Park Digital Studios, real voices from the show, and real-time PVP battles. It is much better than other uninspired titles like Animation Throwdown.
After you design your character you will be walked through the first few levels of the game in single player mode. The game is a bit like Magic: The Gathering where you drag and drop different cards to do battle for you. There are 4 classes of characters you can send into battle and spells you can use. Each character costs points to spawn. If you run out of characters and points your main character will be left open to attacks and you will lose. To win you must fight through your opponents characters and deplete his/her life bar.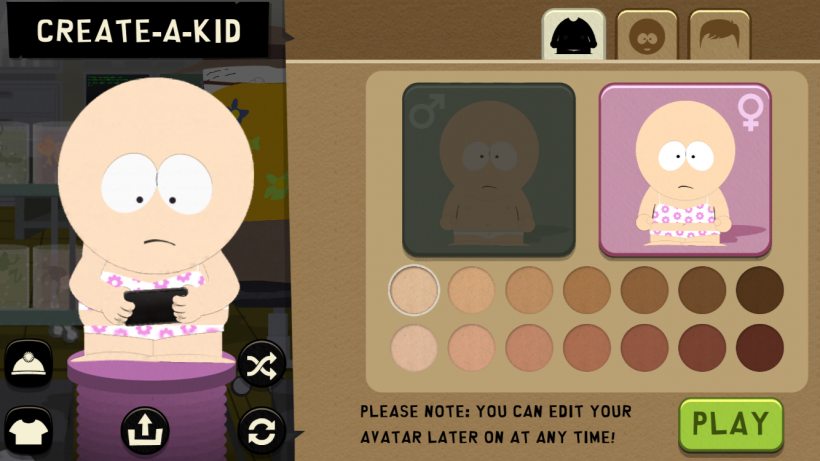 In single player mode you progress through different levels battling different characters from the show. Each of these characters have different boss cards like Randy Marsh that you will need to defeat to win. After each match you can unlock cards in a mini locker guessing game. You can purchase additional card packs with in-game currency and premium currency in the Pack Shop. You can also use in-game currency to upgrade your cards.
You need to progress through the single player story to unlock different menu items. For example, you must reach level 5 to unlock PvP mode. You will also eventually unlock the Deck Builder and IAPs, which allegedly run from around $2.99 to $69.99.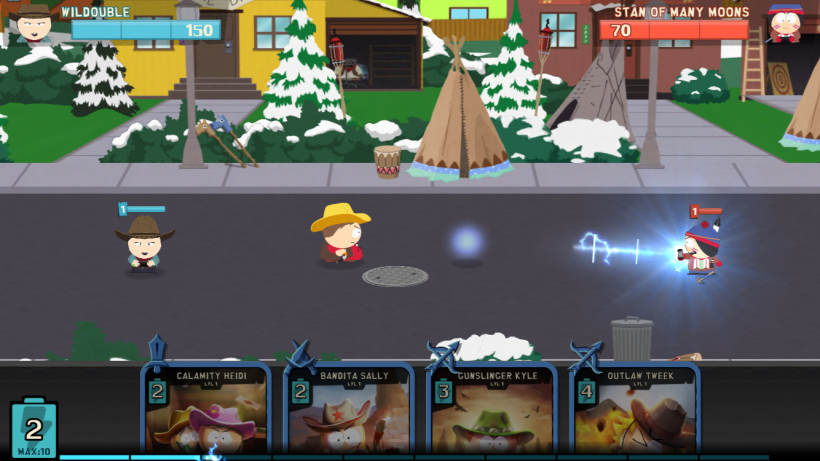 South Park: Phone Destroyer is a well done fremmium title. It does not require that you spend real world money to play, and there is actually stuff to do unlike other games based on popular cartoons, such as The Simpsons: Tapped Out. Phone Destroyer is available for free on the App Store.