Submitted by Bob Bhatnagar on
ZAGG is offering a 50% discount on all invisibleSHIELD products to commemorate Memorial Day. The sale runs now through May 27th. Just enter the discount code "memday09" without quotes on the checkout screen.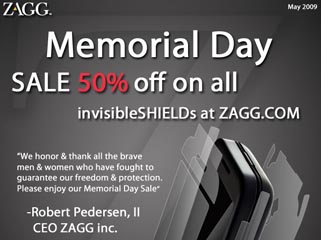 When the invisibleSHIELD was launched in 2007 we featured an in-depth review of the invisibleSHIELD for the iPhone and found it to be the best product of its kind. As a long term user of the product myself, I can say the invisibleSHIELD continues to deliver on all of its promises.