Submitted by Thomas Estilow on
Apple held their widely anticipated iPhone OS 3.0 preview today in Cupertino, California. There are 100 new features on the way in the new operating system, which will ship this summer and cost nothing for existing iPhone users (iPod Touch users will pay $9.95 for the update).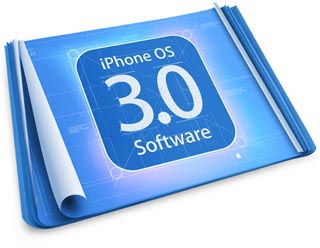 Scott Forstall, the head of iPhone software development, described iPhone OS 3.0 as "a major update to the operating system." Here's a list of the features announced at the event:
Cut, copy, and paste across applications (including photos)
Text message forwarding and deletion of individual messages
Multimedia Messaging Service (MMS)
The addition of Spotlight to search your entire device
Searching in Mail, iPod, Calendar, Contacts
Support for landscape keyboard mode in Mail, Notes, Text messaging
In-App purchases (such as subscription renewals or buying extra game levels)
Peer-to-peer networking via bluetooth (P2P)
Apps that can control accessories
Developer access to the Maps API (to embed Google Maps in apps)
Core Location GPS technology for turn-by-turn directions
Unified push notification Service (apps will update when not running)
APIs to allow for in-app email or iPod access
New video streaming capabilities (HTML 5 video, h.264 and HTTP streaming)
Voice memos (can be emailed or sent via MMS)
Enhancements to the Stocks app
Syncing of notes with your Mac
Shake to shuffle iPod songs
MobileSafari will have auto-fill and antiphishing features
Stereo bluetooth support
Parental controls on the AppStore
1,000 new APIs (Application Programming Interfaces)
There were no new announcements regarding Flash, however tethering will be ready to go in iPhone OS 3.0. Cellular carriers are still working on their side of the deal.
Some features will not work on the original iPhone due to hardware changes (and unfortunately one of them is MMS).
The developer beta version of iPhone OS 3.0 is available now.