Submitted by Bob Bhatnagar on
The TomTom iPhone GPS hardware and software combination may have been featured by Apple at this year's WWDC, however Navigon has already hit the marketplace. Navigon is a full-featured turn-by-turn GPS navigation system for iPhone.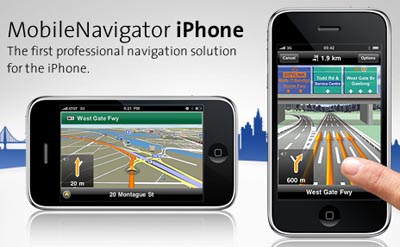 Navigon's MobileNavigator North America is available now on the Apple App Store. Although the price sounds steep at $69.99 (increasing to $99.99 on August 16th), this is a one-time cost with no ongoing subscription fees. In contrast, AT&T Navigator is a free download, but incurs a monthly fee of $9.95.
Assuming you purchase Navigon's product at full price and use it for 10 months, you've already broken even with the AT&T software. With hardware such as the TomTom ONE 125 Car GPS selling for as low as $99 these days, Navigon MobileNavigator still might be a tough sell. But for those iPhone owners who prefer to carry one device that does it all, why purchase another piece of hardware to lug around?
MobileNavigator does not require an Internet connection to operate, and Navigon promises free map and feature updates after your initial purchase.
Features and range of functions:
2D and 3D map displays
Can be used in portrait and landscape format
Precise voice announcements
Intelligent address entry
Reality View Pro (realistic display of motorway interchanges and exits)
Lane Assistant Pro
Real signpost display
Speed Assistant with adjustable audio-visual warning
Day and night mode for map display
Direct access and navigation to contacts saved in the iPhone's address book
The latest NAVTEQ map material including places of interest (POIs)
Navigation is automatically resumed after an incoming phone call
Quick access to user-defined POIs in the area and along the route
Take Me Home function with a single click
Automatic language selection to match the iPhone's user language
Maps for the US, Canada, Puerto Rico, and the Virgin Islands
A free update coming soon will include several additional features:
Allow users to plan a route with several destinations
Additional map view options
Call the number of a point of interest or save it to your contacts
Optimized volume control when using the iPod while navigating
iPhone users have been waiting for full turn-by-turn GPS solutions since the device was first released. Navigon MobileNavigator now joins AT&T Navigator and Sygic Mobile Maps in the first of many navigation apps to come.