Submitted by Bob Bhatnagar on
Waiting to buy an iPhone 4S could have its perks. After all, if you're out of your mobile contract and you've decided to see how things pan out with the new iPhone, there will be more information out there in the coming weeks. Choosing a carrier is no different, and now that the iPhone 4 and iPhone 4S are available on three different wireless networks there are more factors involved in the decision.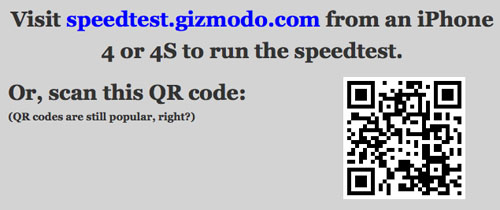 For some, comparing the costs of each carrier's calling and data plans will be a primary concern. Others will jump right to the big question: who has the fastest download speeds?
Reports are filtering in from all over the place, even prompting Sprint to issue a statement that its network can handle the iPhone 4S after reports of sluggish service. No doubt the company will have some growing pains with the iPhone on its network, just as Verizon and AT&T did after their respective iPhone launches.
Unfortunately, regardless of carrier iPhone 4S users in the US will not be able to take advantage of the 14.4 Mbps maximum download speed advertised on the iPhone 4S. AT&T is the only carrier with HSDPA service, however current speeds across the nation are engineered to be much lower than the maximum that is technically possible. Verizon and Sprint don't use HSDPA so don't look to them for much help with the issue.
So how can we compare all three carriers to see where iPhone 4S users get the best data speeds? Gizmodo has started a project called the
Great iPhone 4S National Network Speed Test
to help. The concept is simple, iPhone users across the country can use up 8 MB of their data plan to participate in a download test. Provided that Wi-Fi is off and your iPhone model and carrier are properly entered, Gizmodo records the data and reports the results.
Currently there have been 11,583 participants in the speed test and AT&T is leading the pack with the highest average speeds and fastest speeds on the iPhone 4S. Check Gizmodo for updates to the iPhone 4S speed test before you commit to a two-year contract.