Submitted by Marshall Walker on
It seems like every new Apple release comes with a new complaint: Antennagate, battery drain, over-heating, and so on... Fortunately for Apple fans, most of these bugs or defects are either fixed or eventually will just go away. However, Apple's iPhone 5 / iOS 6 headaches seem to be growing consistently, with no simple fixes in sight.
The biggest question is whether or not Apple will be able to meet the consumers' product demands this holiday season. According to Asian supply chain sources, iPad mini production is behind schedule, and now iPhone 5 production lines have been frozen by Foxconn after an employee strike.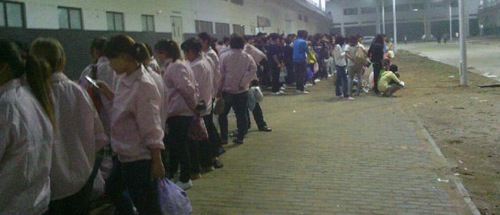 China Labor Watch (via Engadget) reports that workers at Foxconn's Zhengzhou factory are striking over tougher demands from Apple. Three to four thousand workers stopped working to protest Apple's new iPhone 5 standards, which strictly requires less than a 0.02mm appearance defect on all phones. The new standards were implemented after scratched iPhone complaints started piling up.
"It's tough under such stringent quality requirements," writes Sina Weibo, an Apple user and Foxconn employee. "A 0.02mm appearance defect is already beyond that of our vision. With such a demanding task, workers' mental pressure becomes so immense that they have to vent it out."
The dispute between line workers and quality control inspectors at the Zhengzhou plant comes only a few weeks after workers rioted at Foxconn's Taiyuan plant.
Supply chain sources claim that low yield rates of the black-colored aluminum iPad mini chassis are causing a delay in production. Apple is expected to launch the more affordable, smaller iPad to compete with Android devices such as the Kindle Fire HD and Nexus 7 this holiday season.
Analysts warned that releasing four new iOS devices could put a strain on the supply chain and cause shortages. Apple may have bit off more than they could chew by releasing a redesigned iPhone, iPod touch, nano and iPad with new form factor before the holidays.
Neither the iPad mini nor the supply chain rumor has been confirmed, and the employee disputes at Foxconn have not slowed down iPhone 5 sales. However, if you follow the Apple rumor mill, there does seem to be an interesting story developing.
Increasing competition from other smartphone makers and the rise in popularity of smaller and more affordable tablets appears to be putting pressure on Apple to react more directly to the market trends. Instead of creating devices people didn't know they wanted, Apple increased the iPhone's display size in response to larger Android devices. The iPad mini also goes against Steve Jobs prediction that smaller tablets would be dead on arrival.
And of course there is the problem of Apple indirectly punishing its users while trying to be spiteful towards Google.
I'm positive the iPad mini will sell well even if there is a shortage of devices, but the upcoming holiday season promises to be an interesting chapter in Apple history. Recent events have proven that Apple isn't exactly perfect, especially in a post-Steve Jobs world.
When is the last time you remember Apple apologizing for one of its products?