Submitted by Bob Bhatnagar on
The official NFL Mobile iOS app has been fully updated for the 2013-14 football season. Besides a redesigned and rebuilt interface, the latest NFL Mobile includes performance improvements and bug fixes. The app also drops built-in mPOINTS features, however points previously earned are still valid and can be redeemed using other SessionM apps.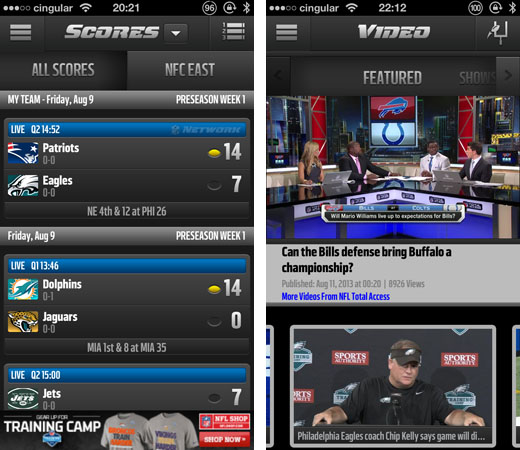 Scores, team alerts, fantasy team features, video highlights and more give mobile users full access to all the action starting with preseason match ups. National Football League fans with jailbroken devices may have already noticed that version 8.1 of the mobile app is not supported on jailbroken devices. Running the app on a jailbroken iOS device results in a message simply stating "Jailbroken device" and no functionality.
Luckily there is a solution to this problem available on the Cydia jailbreak app store. To restore the NFL Mobile app on a jailbroken iOS device, the package tsProtector P can be installed for $1.39. This package protects system files from being scanned by third-party apps installed on an iOS device. The tsProtector P tweak will alert the user that an app is trying to access system files, and can be configured to prevent this action.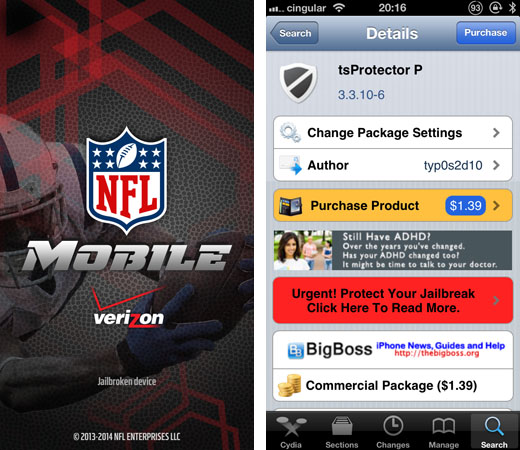 Because modified iOS system files are often scanned during jailbreak detection processes, preventing this action can leave the app free to run despite the jailbreak. Once installed, tsProtector P should be enabled in the Settings and configured to Alert -> Prompt (Don't Allow). Once this has been completed, running the NFL Mobile app results in an alert, which is automatically dismissed in a few seconds.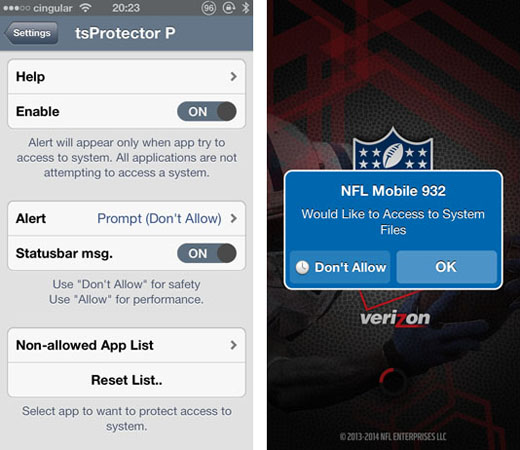 Once the alert disappears, NFL Mobile will open normally and the app will automatically be denied access to iOS system files in the future. This fully restores all of the season's football action to fans with jailbroken devices. NFL Mobile also provides team standings, rosters, stats, and schedules, access to the NFL.com shop, articles featuring expert analysis and even game ticketing functions. NFL Mobile is available for free
on the App Store
and requires iOS 5.0 or later.
tsProtector P is available on Cydia from the BigBoss repo for $1.39. Check here for instructions on how to jailbreak iOS 6.x with evasi0n. You can also find out how to purchase and install Cydia tweaks with this guide.