Submitted by Anders Batten on
Apple is expected to announce the iPhone 5S and iPhone 5C on Tuesday, September 10th at its headquarters in Cupertino, California. The iPhone 5S is the rumored successor to the iPhone 5, and the iPhone 5C is Apple's rumored plastic low-cost device. Here's what the rumor mill is saying about the iPhone 5S.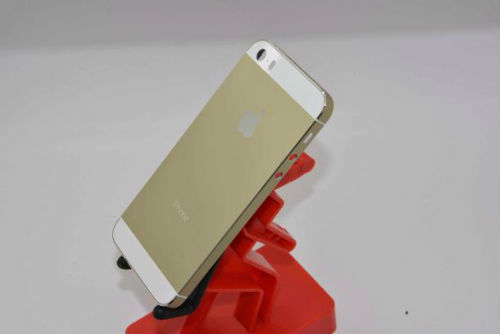 Design:
Apple fans are preparing themselves for another "boring" iPhone S-model launch. However, Apple is expected to spice things up with the announcement of a gold iPhone model, and the company has completely redesigned its OS. The radical new design of iOS 7 will help most people forget that the new iPhone looks exactly like the iPhone 5.
The iPhone 5S is expected to feature the same two-tone metal/glass back, 4-inch display and same Retina resolution as its predecessor. The only cosmetic change will be to the home button, which will lose its iconic square icon for a more iOS 7 friendly look.
Hardware:
Like all previous iPhone releases, the iPhone 5S should boast a new Apple processor. It is safe to assume Apple will announce the A7 chip, since the iPhone 4 ships with the A4, the iPhone 4S features the A5, and iPhone 5 has the A6. The A7 chip will be 31 percent faster than the A6, according to 9to5Mac.
The iPhone's camera is also expected to get a bump in specs. Leaked images have revealed that the iPhone 5S will feature a brighter, dual-LED flash, and previous reports have suggested that the new camera will boast a 13MP CMOS image sensor.
Fingerprint Sensor:
The biggest rumor surrounding the next-generation iPhone is the addition of a fingerprint sensor under the home button. If purported leaked images are to be trusted, the iPhone 5S fingerprint scanning sensor is real. However, the big question is what will it do? So far the only guesses include increased security and the elimination of annoying passwords. A fingerprint sensor could also make mobile payments a lot easier and more secure in the future.
Price and Release Date:
Pricing is not expected to change, but Apple may discontinue the iPhone 4S. There have also been rumors of Apple releasing a 128GB model for $499. Here's how the new iPhone pricing plans are expected to look:
iPhone 5S - 16GB ($199), 32GB ($299), 64GB ($399)
iPhone 5 - 16GB ($99)
iPhone 5C - 8GB ($0)
AT&T and T-Mobile employee vacation blackouts suggests that Apple will release the iPhone 5 and iPhone 5C on September 20th. This also fits with previous Apple launch windows.