Submitted by Sammy Snyder on
After an "accidental" release to the New Zealand App Store, and an epic hissy fit by FOX, TinyCo's Family Guy: The Quest for Stuff is finally available for mobile devices. The game is another painfully slow resource management title where you must rebuild Quahog after it is destroyed by The Giant Chicken and Peter Griffin.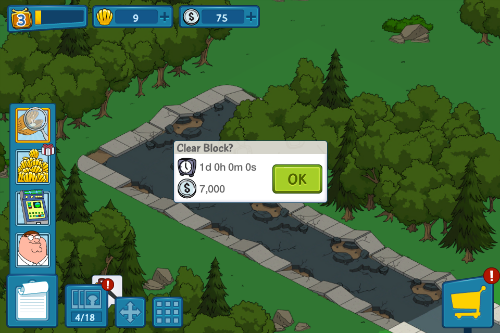 Family Guy: The Quest for Stuff is horribly boring. While TinyCo did a great job of capturing the essence of the television show, the game suffers because all you do is wait around for timers. You can of course speed things up by spending real life cash.
The game works like most mobile freemium titles on the App Store by assigning you tasks that you normally can't complete because you don't have enough in-game money or golden clams. The so-called "quests" are also a joke because they're not quests at all. They only require that you swipe an icon then wait hours for a character to complete some unfunny action like "Fat Kid Hula Hoop".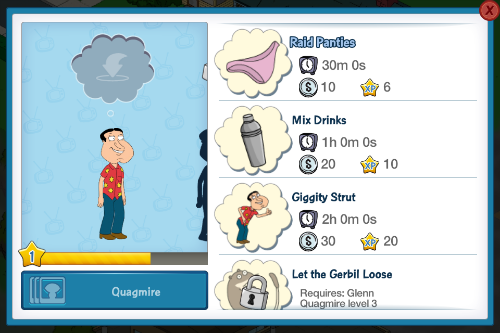 If you like doing nothing or just like micro-transactions, then you can download Family Guy: The Quest for Stuff for free from the Apple App Store.
Another game getting bad reviews due to in-app purchases and timers is Atari's
RollerCoaster Tycoon 4 Mobile
. Atari's biggest crime is charging $2.99 for what is basically another freemium title, according to
TouchArcade
members.
RollerCoaster Tycoon
also currently has a low rating of three and half stars on the
App Store
.
While it is safe to say that this has been a disappointing week for App Store releases, here are a few noteworthy apps, games and tweaks released between 04/06/14 to 04/12/14. Apple's Free App of the Week is Warhammer Quest. It will be free on the App Store until 04/17/14. IGN's Free Game of the Month is Epoch 2. You can grab your free promo code here.
One last quick note, Tamper's popular iPad app, Morning is now available for the iPhone with 15 new UI themes.
R.B.I. Baseball 14: $4.99 for the iPod touch, iPhone and iPad (Requires iOS 4.0 or later) Rated 4+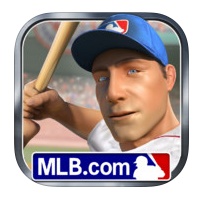 This is another game being met with mixed reviews due to its simple game play. Major League Baseball Advanced Media wanted to create a retro and fast gaming baseball experience for mobile devices. They accomplished this by simplifying the controls and minimizing distractions that "slow the pace of a game" down. The game doesn't allow players to access team or player rankings before a match, and it eliminates the need for warming up relief pitchers so you can play a "9 inning game in under 20 minutes". R.B.I. Baseball 14 doesn't offer an online match option, but it does feature a two-player exhibition mode, and one-player season and post-season modes.
Carousel by Dropbox: Free for the iPod touch and iPhone (Requires iOS 7.0 or later) Rated 4+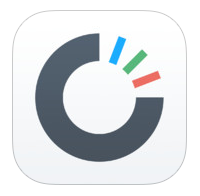 If you're not boycotting Dropbox due to Condoleezza Rice, you may want to check out the company's latest offering for the iPhone. Carousel automatically backs up your images and videos to Dropbox's cloud service as soon as you take them.
Trials Frontier: Free for the iPod touch, iPhone and iPad (Requires iOS 6.1 or later) Rated 9+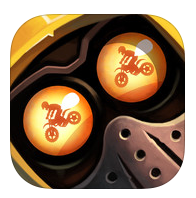 This Excitebike look-alike is a side-scrolling platformer that tasks you with completing wild bike stunts on over 70 different tracks.
More App Store Releases
- PlaceSpace: Free (Universal) Location-based social network and nightlife attractions guide
- SleepSounds HQ: $1.99 (Universal) Features over 500 soothing sounds to help you sleep
- Traps & Cat: (Free) Mario with cats!
- Fighting Fantasy: Starship Traveller: $5.99 (Universal) Based on the Fighting Fantasy single-player roleplay gamebooks by Steve Jackson
- Robots Love Ice Cream: $0.99 (Launch Sale Price, Normally $2.99) (Universal) Save your ice cream from cute robots
- Power Grounds: $0.99 (Universal) A strategy game with randomly generated levels
- SideSwype: $1.99 (Universal) A beautiful minimal block puzzle game from the creator of Slydris and CRUSH
- Shatter Alley: $2.99 (Universal) Music-driven reimagination of the brick breaker
- Instantion: $1.99 (Universal) 2D puzzle platformer
- Wind-up Knight 2: Free (Universal) 3D platformer
- Dungeon Quest: Free (Universal) Free-to-play Action RPG
- Ancient Battle: Alexander: $1.99 (Universal) Based upon, and a major upgrade to, the game system developed for Ancient Battle: Rome
New Cydia Tweaks
- CamText ($1.50) Allows you to walk and text without killing yourself
- Location Spoofer ($2.99) Fake your iPhone's location
- MultiPass (Free) Add up to six different passcodes to your Lock screen
- SpringPaper ($1.99) Turn images from your Photo library into a wallpaper slideshow
- Clear Background Apps (Free) Quit all background apps with one tap
- pushNotify ($0.99) Push Notifications to your Mac
- Priority Hub ($0.99) Adds Blackberry 10 priority hub to your iOS device