Submitted by Sammy Snyder on
The popular zombie survival game Last Day On Earth has been updated to version 1.5. Bunker Alfa has been updated with more vehicle parts, which means you will be able to finish assembling the chopper. Heavy fire arms and more dangerous zombies have also been added to the game.
There has been some confusion about how to assemble the chopper which may or may not be needed to advance in the game. Players have been desperately searching for the final two pieces, a fork and gas tank, which are needed to finish crafting the vehicle, but it was discovered that these parts do not actually exist in the game.
Last Day is still in beta, which means many of the advance levels and mechanics have not been finished. However, the developers have been working hard to update the game while keeping players informed on their progress via Facebook. Other features, such as multiplayer and the ability to chat with other players, are also in the works.
To assemble the chopper you will need a CAC Card marked A to enter Bunker Alfa. Once inside you will need the passcode to enter the lower floor of the bunker. Rumors have suggested that you need a USB Drive to access the passcode to bypass the lower bunker door.
Update #1:
You will receive your personal passcode to the lower level via the CB Radio after you update the game. You can use the passcode to open the elevator and select level 1 to access the new area in the game. Be careful. There are a lot of zombies lurking around underground. Make sure you are heavily armored and armed. Any type of gun is recommended.
Your device also must meet the recommended system requirements to access the new level. System requirements include an Internet connection and an iPhone 5, iPod touch 6th Generation, iPad Pro, iPad 4, iPad Air, iPad mini 2 or newer. All the in-game items needed to reach the lower bunker levels can be found by scavenging through boxes and the bodies of fallen enemies.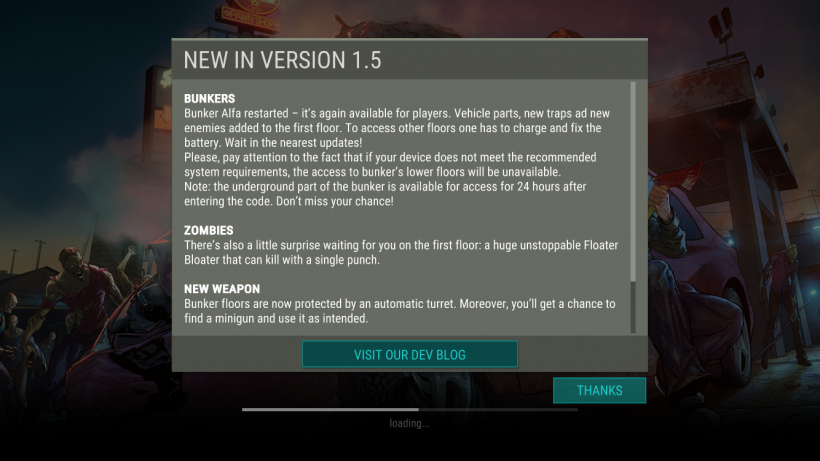 We will update this post when we confirm how to open the lower level. Until then please lets us know any tips you may have in the comments below.