Submitted by Anders Batten on
A new bug discovered in iOS 8 by Happy-Touch (via 9to5Mac) is causing the Kids section of Apple's App Store to display some inappropriate apps. For example, the Top Grossing apps for "Kids 5 and Under" is displaying titles like Game of War, which is recommended for 9-years or older, and the popular dating app Zoosk.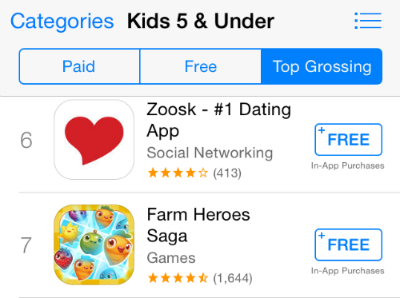 Unless your 5-year old has already started dating, you may want to pay close attention to what you download from the the All Kids, Kids 5 & Under, Kids 6-8, and Kids 9-11 categories until Apple fixes the problem. The bug only seems to a be affecting devices running iOS 8 or later, and it has been found on both the U.S. and Canadian App Stores, according to 9to5Mac.