Submitted by Chad Shmukler on
One of the still outstanding "head scratchers" regarding the Apple iPhone is the continued lack of support for the A2DP Bluetooth profile. Considering the iPhone's roots are in the iPod, a stereo music player, it is quite astounding that as we sit here already up to iPhone firmware 1.1.1, there is still no native support for A2DP. The good news is that this doesn't mean A2DP is unavailable to iPhone users.
For those of you unfamiliar with A2DP (Advanced Audio Distribution Profile), A2DP is a Bluetooth profile that allows for the wireless transmission of stereo audio from a source (i.e. a phone or computer) to an A2DP receiver (a set of Bluetooth headphones or stereo system).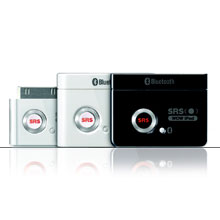 Back to the good news. Though the iPhone itself does not support A2DP directly (at this time), all iPhone owners can still