Submitted by Anders Batten on
The iPhone 6 and next-generation iPad will ship with a new Lightning cable that features a reversible USB, according to leaked images published by uSwitch Tech and Sonny Dickson. The first image shows alleged retail boxes for Apple's rumored revamped Lightning cable. The second image is a closer view of the reversible USB posted to Twitter by Dickson. The new USB connector would put an end to one of the most frustrating problems known to man by allowing the cable to be inserted into a USB port no matter what side is facing up.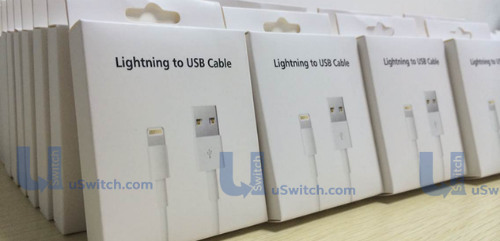 The USB Promoter Group in December announced a fully reversible Type-C USB cable was in the works, but this cable will not support current Apple products. However, Apple has been working on its own "dual orientation USB plug connector," according to a patent filed in 2013 (via 9to5Mac). The patent says that the USB would be able to mate with "standard USB receptacle connectors, e.g., a standard Type A USB receptacle connector." This means it will support current Apple computers and accessories, unlike the Type-C USB.