Submitted by Fred Straker on
Ever notice how groups of photos taken in Burst Mode resemble the frames of a video? This comes as no surprise, as the images are captured at high speed. Now the app Burstio makes it possible to create a video or animated GIF directly from a burst group. The process is straightforward; simply open the app and select the Burst Mode photos to use.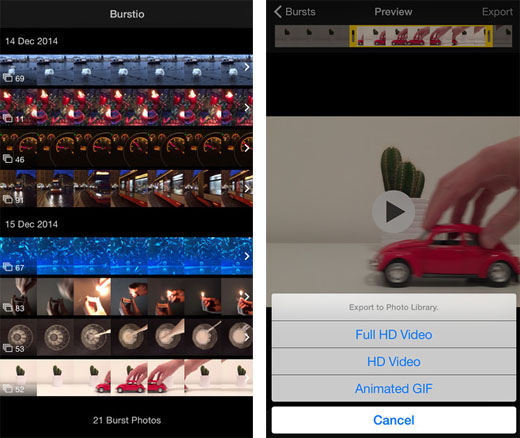 The preview can be trimmed, using the same interface used to trim video length. Once the desired frames are selected, touch Export and a menu will appear. Animated GIF will create a 320x240 animated GIF, which can be saved to the Photo Library or shared. There are also options to save your work as a Full HD Video or an HD Video. Options to increase or slow the playback speed are also provided, for special effects.