Submitted by Fred Straker on
While the iPhone 5s shoots 1080p full HD video by default, an upgrade to 2K video recording is now available on the App Store. Ultrakam Pro takes full advantage of the eight megapixel iSight camera on the iPhone 5 and iPhone 5s, capturing pixels well beyond the 1920 x 1080 found in HD video. After all, the main camera on these iOS devices can grab a 3264 x 2448 resolution still image.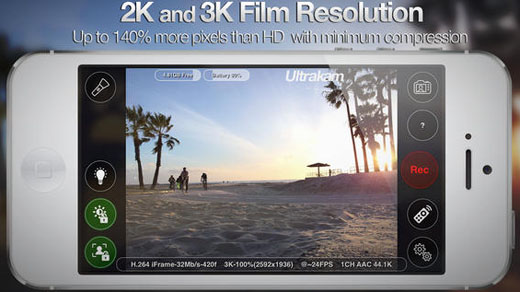 With Ultrakam Pro installed the iPhone 5s can even record 3K video at up to 30 frames per second. For comparison, 2K video clocks 2240 x 1672 resolution and 3K surpasses this with 2592 x 1936 pixel resolution. iPhone 5 owners can use the app, but will be limited to 2K video at 20 frames per second due to the older hardware. Ultrakam Pro can be found on iTunes and is currently on sale for $6.99.