Submitted by Bob Bhatnagar on
When it comes to smartphone photos taken and posted on popular sharing site Flickr, Apple just surpassed itself again. The iPhone 4S has flown up the ranks to beat the iPhone 3G as the second most popular device to snap photos with on Flickr. This kicks the iPhone 3GS down to third and the Android HTC EVO 4G into fourth place.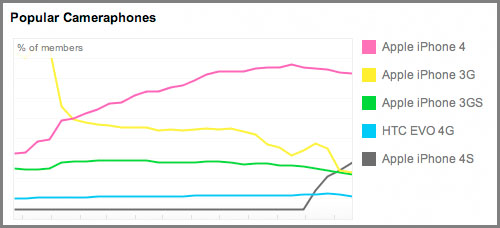 The reigning champion of mobile phone image uploads? The iPhone 4 retains its lead in the segment, blowing away the competition. In fact, when it comes to overall camera statistics on Flickr the iPhone 4 also comes in first place, ahead of several digital SLR models. The Canon EOS 5D Mark II and the Nikon D90 follow in second and third place respectively, with the Canon EOS Rebel T2i and Canon EOS 7D following behind.