Submitted by Bob Bhatnagar on
The Absinthe jailbreak tool for Windows is here. Chronic Dev Team released a new version of Absinthe that not only corrects some early bugs in the process, but will bring the full iPhone 4S and iPad 2 jailbreak to Windows users. The solution comes from pod2g and a "dream team" of iOS hackers working around the clock.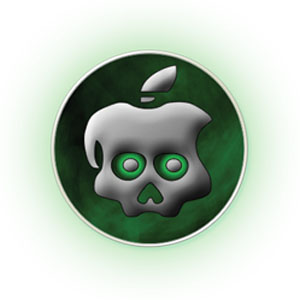 Absinthe is fully untethered and can be installed on mobile devices running Apple's latest firmware (iOS 5.0.1). Development efforts continue despite the successful release of Absinthe, with the iPhone Dev-Team working on new tools including an updated redsn0w coming soon.
Dev-Team has also launched an alternative command-line interface (CLI) for advanced users, or those having specific problems that need debuging. The CLI offers 20 options and helps iPhone Dev-Team improve the process for all users. Watch out for updates on all of the new jailbreaking methods.
Before jailbreaking, make sure you backup your iPhone using iTunes to preserve your data in the event of a problem.
Here are instructions on how to jailbreak your iPhone 4S or iPad 2 on a Windows computer:
1. Update your iPhone 4S to either iOS 5 or iOS 5.0.1 (the iPad 2 must be updated to iOS 5.0.1). iPhone users waiting for an unlock should stay at iOS 5 for now.
2. Download the Absinthe software from greenpois0n.com or this mirror (version 0.2).
3. Unzip the Absinthe archive.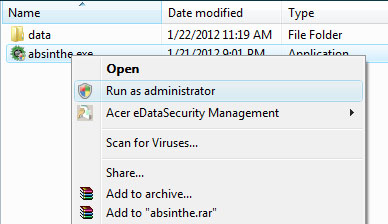 4. Right-click the absinthe.exe application and select Run as administrator. If your computer asks whether or not to run Absinthe click Allow to proceed.
5. Connect the iPhone 4S or iPad 2 to the computer via USB cable.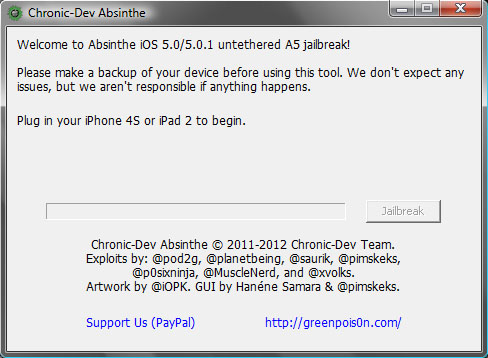 6. Click the Jailbreak button in the lower right of the Absinthe application window.
7. The iPhone screen will display Restore in Progress. Do not touch the iPhone until Absinthe completes the restore process!
8. When Absinthe finishes, unlock the iPhone and find the Absinthe icon on one of your home screens. Tap the Absinthe icon to run the next step of the jailbreak.
9. The greenpois0n site will load briefly in mobile Safari then the iPhone 4S reboots.
10. The Absinthe icon automatically gets replaced by a Cydia icon after reboot. Your device is now jailbroken!
11. When running Cydia (the jailbreak app store) for the first time the program will take a few minutes to initialize. After this completes, navigate to the Changes menu and touch Refresh in the upper left hand corner to update the list of current software.