Submitted by Bob Bhatnagar on
AquaBoard, one of the longer-running tweaks available on Cydia, has now been updated for iOS 8. Jailbreakers may already be familiar with the OpenGL-based "Liquid SpringBoard" developed by Elias Limneos. Once installed, AquaBoard will animate water effects over the wallpaper any time the display is touched. These effects take place on both the lock screen and home screen, and stop animating as soon as the wallpaper is no longer visible to save battery power.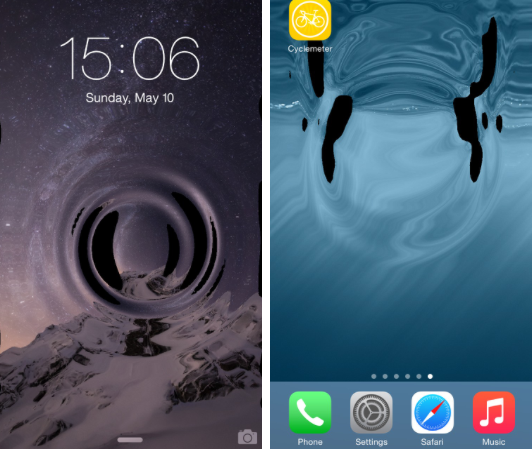 Settings include a toggle to disable the tweak entirely, or to turn water effects off on the home screen or lock screen individually. The number of frames per second (FPS) can be customized for different effects, although higher FPS may not work well on older devices.
Last but not least, there are several Aqua Themes to choose from. Each selection produces a different ripple effect over the wallpaper. Waves will even bounce off the sides of the screen and create realistic interference. Here are the themes:
- Turbulence (Default)
- Rain Drops
- Fingertips
- Aqua Sphere
- Waves
- Shockwave
- Unseen Abyss
- Abstract Artist
- Heavy Taps
- Smudge Brush
While AquaBoard is purely cosmetic, it remains an interesting tweak that showcases the graphics capabilites of the iPhone.
AquaBoard is available from the BigBoss repo on Cydia for $2.99. To start customizing iOS, click here for instructions on jailbreaking iOS 8.0-8.1.2. Those with older firmware can jailbreak with Pangu (iOS 7.1) or evasi0n 7 (iOS 7.0). Find out how to purchase and install Cydia tweaks with this guide.
Follow the iPhoneFAQ Twitter feed and stay tuned to Facebook for the latest jailbreak tweaks and news.