Submitted by Fred Straker on
Now that Cydia and MobileSubstrate have been updated for iOS 7, developers are working hard to bring their tweaks up to speed. In the meantime, there's one detail that has been overlooked. The Cydia icon still has an iOS 6 design, which doesn't conform to other icons on the iOS 7 home screen.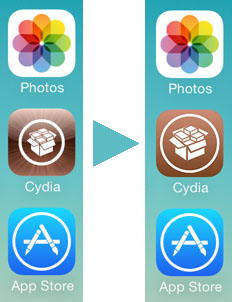 Of course, if your device is jailbroken the Cydia icon (or any icon, for that matter) can be replaced. By following the steps below, you can add this finishing touch to the iOS 7 jailbreak. Installing the new icon requires transferring files to the iPhone via SSH. For instructions on how to transfer files to your iPhone with SSH click here.