Submitted by Bob Bhatnagar on
Last Year's April Fool's joke reappeared in Cydia today, thanks to code that checked for the date and displayed a Twitter-inspired Quick Bar. Saurik explained that the prank was intended to emulate the discontinued Twitter iPhone app feature, which received poor reviews. The Quick Bar automatically displayed promoted tweets.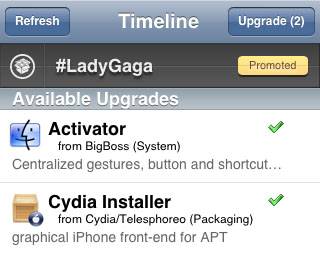 The feature was renamed the "dickbar" by some frustrated users before it was eventually removed by Twitter. Saurik realized that some people might get confused by the feature reappearing every April 1st, so he removed the code once and for all. Cydia 1.1.6 incorporates this change and can be updated using the Cydia app.