Submitted by Bob Bhatnagar on
BGR already has its hands on a copy of the upcoming iOS 4.3.2 firmware update for iPhone and iPad. According to their sources the update will be released before the end of April, possibly even next week. Several fixes and changes are expected in this minor update.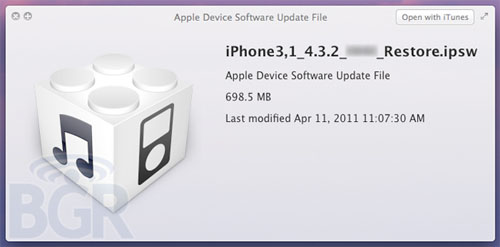 For one, the 4.3.2 update should address the strange FaceTime issues that iPhone 4 and iPad 2 users have been experiencing lately. These include video freezing, having to restart the iPad, and the iPhone 4 leaving behind random photos of users on the screen. iOS 4.3.2 will not presumably be available on the Verizon iPhone 4, which is still running 4.2.6 firmware.