Submitted by Chad Shmukler on
The first shipments of Apple's iPhone Bluetooth Headset hit Apple stores today, and details about the headset and unboxing pics are surfacing already. Preliminary reports indicate good sound quality from the headset and a nice array of included extras.
The headset offers, for the most part, a fairly typical BT earpiece feature set, including the ability to answer incoming calls, end current call, ignore incoming calls, answer calls when on an existing call, etc.
Unfortunately, what's missing is any indication or information on the how to use the "single button that lets you make and receive phone calls simply and intuitively" to actually make calls. That tidbit is mentioned in the headset's product information on Apple's online store and previously led to speculation (by your's truly) that the iPhone headset might bring with it some sort of voice dialing capability to the iPhone. Instead, despite the claim on Apple's online store, there's no mention of actually making calls with the headset. Instead, the manual instructs users to make a call on their iPhone.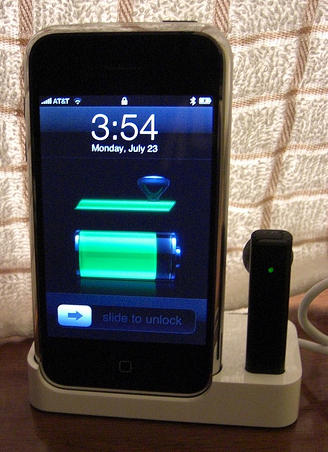 As highlighted by flickr user nomad7674's unboxing pics, one nice feature of pairing the headset with your iPhone is