Submitted by Marshall Walker on
Engadget got an early preview of the Impossible Instant Lab at Photokina, which is taking place right now in Cologne, Germany. The folks behind the Impossible Project have raised over $400,000 via Kickstarter to manufacture their instant photo lab for the iPhone. According to the Kickstarter page, the Impossible Project crew "were crazy enough to buy the last Polaroid factory in order to save instant film for the future." They then set out to find a way to turn digital iPhone images into "true instant photos," and the Impossible Instant Lab was born!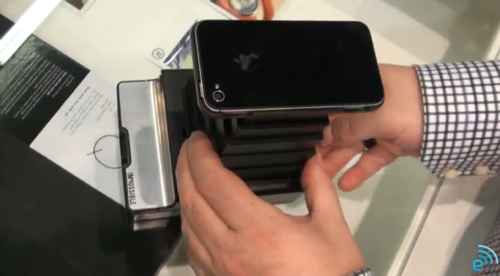 The Impossible Instant Lab is easy to use, you just take a picture using the Impossible app, extend the tower connected to Impossible Lab base, place the iPhone on the tray and the iPhone flash will let you know when the process is finished. The Impossible Instant Lab uses its built-in lens and light from the iPhone screen to expose an image from the iPhone onto film, which is then spit out by the rollers on the bottom.