Submitted by Marshall Walker on
RuPaul's Drag Race: Dragopolis is not going to win any design or gameplay awards, but it will win the heart of any Drag Race fan. In Dragopolis, players must save the Pit Crew from the evil Apocalypstyk by jumping over drag trash, sliding under flying high heels, and dodging Mimi Imfurst (I don't think it's officially Mimi, but it sure looks like her) while still looking fabulous. Players can earn in-game money to spend on new outfits, wigs and power-ups by completing levels and participating in photo shoots. This is very important because you better don't show up on the runway twice in the same outfit. You can also buy upgrades with real money, and unlock Manila Luzon, Pandora Boxx and Yara Sofia for $0.99 each. Hopefully more RuPaul Drag Race contestants will be added in future updates. I suggest adding a dunk Roxxxy mini-game, and getting more queens to do voiceovers. It would be great to hear Willam tell you, "you are not doing that right" every time you screw up.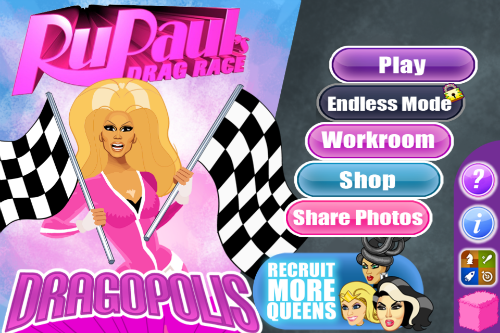 Even with the lack of guest stars, the developers did a miraculous job of including all the important RuPaul-isms and capturing the true outrageousness of RuPaul's Reality TV series. RuPaul's Drag Race has been slowly climbing its way into the hearts of pop culture fans and outcasts since its debut, and while not a masterpiece, Dragopolis is an excellent addition to the RuPaul universe. Unlike other lackluster apps based on celebrities, RuPaul's iOS game manages to capture the charm and magic of RuPaul and the queens that have been captivating fans on Logo since 2009.