Submitted by Sammy Snyder on
Princess Bride - The Official Game is a good example of everything that is wrong with the App Store and mobile games. This doesn't mean the game is bad, but it is the type of App Store title that forces you to talk about download prices and in-app purchases, instead of the game itself. And that's a shame, because as everyone knows, Princess Bride the movie is a classic and it deserves a lot better.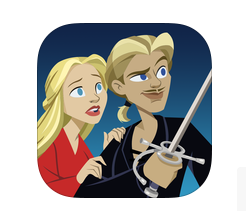 First let me say that Princess Bride - The Official Game does a great job of paying homage to William Goldman and Rob Reiner's wonderful fairytale world of fencing, fighting, torture, revenge, giants, monsters, chases, escapes, true love and miracles. The game is full of music and images straight from the film and it features all the classic lines you have been quoting since 1987. The problem with the game is its layout. Instead of being one cohesive game that takes you through the Princess Bride story it is broken down into four parts or four mini games:
Survive the Shrieking Eels!
Scale the Cliffs of Insanity!
Cross swords and duel with Inigo!
Wrestle against a Giant!