Submitted by Marshall Walker on
It may seem a bit premature to declare Smash Hit the best game released to the Apple App Store this month, but it is hard to believe that something more addictive and entertaining will take its place on my iPhone before March is over. I have to admit that it was a tweet by The Verge, and free price, that led me to download the game in the first place. I hadn't intended to review Smash Hit but after picking it as our "Game of the Week" in our weekly recap, I decided it needed more attention because it is just too fun to ignore.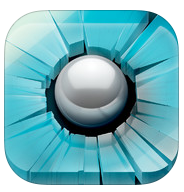 Smash Hit is an easy to play but challenging game where you must throw balls at glass obstacles that get in your way while flying through different 3D dimensions. You begin the game with 25 balls and can collect more by smashing blue crystals scattered throughout the various levels. The game is over when you run out of balls.